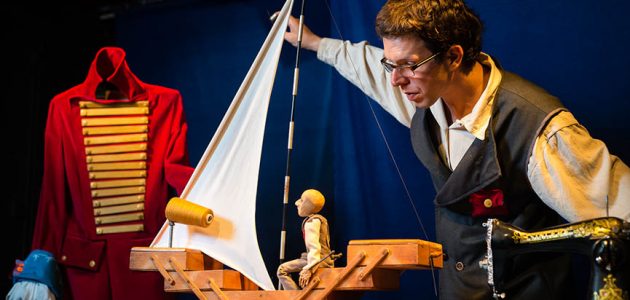 THE TRAIN THEATER
Tailor Made
Israel
09:30 & 11:30 Στο Δημοτικό Θέατρο «Άνετον»
19:00 Στο Δημοτικό Θέατρο «Άνετον»

The performance
On a morning just των like any other, a little tailor gets a note. It reads: "Your mission is to sew a coat by midnight. The size does not matter, but it must fit perfectly…" At precisely midnight the tailor completes his mission, but then… Where is the sewing machine running off to? Why are the scissors wearing a skirt? What has the thimble turned into?
Come join in the magical adventure of the tailor.
A play with a few words combining puppetry, object theater, textiles and music.
Created by Ornan Braier
Adaptation, design, music and manipulation: Ornan Braier
Artistic supervision: Marit Benisrael
Costume and fabric design: Vali Mintzi
Puppet design: Sharon Silver-Merrett
Lighting design: Shahar Maron
Mechanical constructions: Shaul Mograbi-Berger, Ornan Braier
Photo: Dor Kedmi
About The Train Theater
The Train Theater was established in Jerusalem in 1981 and became a creative and inspirational source of puppetry in Israel.
The Train Theater aims to promote and develop the field of Puppet Theater in Israel for young audience, emphasizing on the artistic quality of the field and its productions. The Train Theater repertoire is based on visual theater, aimed for children from ages 2-12 and the whole family. The productions are rich in visual artistry.
The Train Theater believes that the boundaries of puppetry can change and that the various structural elements, such as space, puppet, object and the puppeteer can have an expanded role.
In addition, the Train Theater believes in artistic freedom and imagination for all artists working within its framework.
Images & Videos
Event Hours
(3)
Friday Nov. 10

09:30 am – 10:10 am

The play: «Tailor Made»

Friday Nov. 10

11:30 am – 12:10 pm

The play: «Tailor Made»

Friday Nov. 10

07:00 pm – 07:40 pm

The play: «Tailor Made»
VERIA THESS PUPPET FESTIVAL 2018
«VERIA THESS PUPPET FESTIVAL 2018», το Διεθνές Φεστιβάλ Κουκλοθέατρου και Παντομίμας της Βέροιας. Στο Χώρο Τεχνών και στις πλατείες και δρόμους της Βέροιας.
8 μέρες συνεχόμενης θεατρικής γιορτής για όλες τις ηλικίες!
26 παραστάσεις από 12 βραβευμένους θιάσους, που προέρχονται από 6 διαφορετικές χώρες.
Παραστάσεις, πρωινές για μαθητές δημοτικών σχολείων και γυμνασίων και για όλη την οικογένεια στο απογευματινό πρόγραμμα.
Θεατρικά έργα στα ελληνικά και χωρίς λόγια και με πολύ μουσική, κίνηση και φυσικά με εμψύχωση κουκλών και αντικειμένων ώστε να ερμηνεύσουν ιστορίες από διαφορετικούς πολιτισμούς και παραδόσεις.
Με παράλληλες εκπαιδευτικές προτάσεις, όπως 2 σεμινάρια ενηλίκων για την ανακάλυψη του θεατρικού κόσμου των αντικειμένων, 12 θέατρο-παιδαγωγικά εργαστήρια για παιδιά, και 2 εκθέσεις για το κουκλοθέατρο και το θεέατρο σκιών στην ιστορία της ανθρωπότητας & στην Ελλάδα.
Από τις 15 έως τις 22 Οκτωβρίου, «VERIA THESS PUPPET FESTIVAL 2018», στο Χώρο Τεχνών και στις πλατείες και δρόμους της Βέροιας.