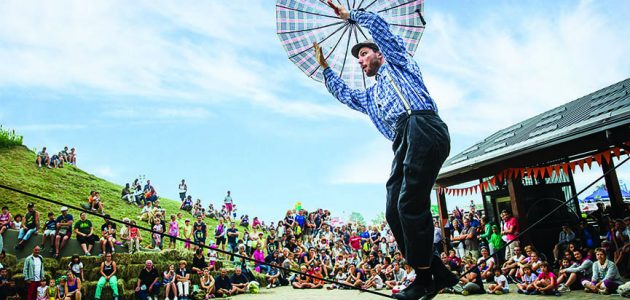 FONDAZIONE CIRKO VERTIGO
"FONDAZIONE CIRKO VERTIGO"
"Compagnia Qanat"
Italy (Τορίνο)

Street performance

For all ages
12 november at 12:00 in the Aristotelos square
12 november at 18:30 in the Municipal Theatre "Aneton"
Τhe performance
Michelino, is nolstagic for the past, for the times where he would travel around with the Circus. Spinning juggle clubs, flying balls and slacklines star in his dreams. He tries so hard to keep those memories alive and experience them once again. Wil he manage to do so? We'll find out!
The company
CIRKO VERTIGO- QANAT ARTS AND ENTERTAINMENT
Cirko Vertigo is an International excellence hub for creation and production of shows and events, a professional and non-professional training pole for circus arts and residence for young artists. Since 1999 Cirko Vertigo creates and distributes its shows under the name of its company Qanat Arts and Entertainment, who is very often in charge of big events, both at national and international level. Cultural Association Qanat Arts and Entertainment was born from an artistic and cultural project undertaken by Paolo Strata, one of Italy's top experts in street theater and contemporary circus.
Qanat (word of Persian origin) takes its name from the ancient underground channels built to bring water to cities and refers to a precise circus idea that unites its founders: an underground river that flows for centuries, emerging unexpectedly in places that are not conventionally intended for theater, but for people. Co-founder of the historical artistic project is Luisella Tamietto, accompanied by professionals such as Milo Scotton, Leo Bassi, Jérôme Thomas.
At an artistic and organizational level, the Company draws its inspiration from the idea of an artistic collective that integrates different approaches, opens up to different styles and professionalism. Caterina Mochi Sismondi, director and choreographer is associate artist since 2014. She works on her personal research path, in balance between tradition and experimentation, word and movement, with a baggage that is the masterpiece of multiple fields of contemporary creativity: contemporary circus, dance theater, literature, visual arts, classical and contemporary music production and in situ performance.
The artist
O Michelino or Michalis Tomazos, was born in Rhodus in 1988, he grew up and made his first steps in the field there with the street theatre troupe «Circo Bahalo». Then, in 2012, he studied at the Circus School of Rome ''Scuola Romana di circo" and in 2014 he received a grant to study at 'Scuola di Cirko Vertigo'' in Torino.
He worked with some great teachers and directors like Aran Miluka, Milo Scotton and Onofrio Colucci and took part at the biggest circus festivals of Italy like Mirabilia, Sul filo del circo and Ratataplan.
Images & Videos
Event Hours
(2)
Sunday Nov. 12

06:00 pm – 07:00 pm

The play: «Μichelino Circus»

Monday Nov. 13

12:00 pm – 12:30 pm

The play: «Μichelino Circus»
VERIA THESS PUPPET FESTIVAL 2018
«VERIA THESS PUPPET FESTIVAL 2018», το Διεθνές Φεστιβάλ Κουκλοθέατρου και Παντομίμας της Βέροιας. Στο Χώρο Τεχνών και στις πλατείες και δρόμους της Βέροιας.
8 μέρες συνεχόμενης θεατρικής γιορτής για όλες τις ηλικίες!
26 παραστάσεις από 12 βραβευμένους θιάσους, που προέρχονται από 6 διαφορετικές χώρες.
Παραστάσεις, πρωινές για μαθητές δημοτικών σχολείων και γυμνασίων και για όλη την οικογένεια στο απογευματινό πρόγραμμα.
Θεατρικά έργα στα ελληνικά και χωρίς λόγια και με πολύ μουσική, κίνηση και φυσικά με εμψύχωση κουκλών και αντικειμένων ώστε να ερμηνεύσουν ιστορίες από διαφορετικούς πολιτισμούς και παραδόσεις.
Με παράλληλες εκπαιδευτικές προτάσεις, όπως 2 σεμινάρια ενηλίκων για την ανακάλυψη του θεατρικού κόσμου των αντικειμένων, 12 θέατρο-παιδαγωγικά εργαστήρια για παιδιά, και 2 εκθέσεις για το κουκλοθέατρο και το θεέατρο σκιών στην ιστορία της ανθρωπότητας & στην Ελλάδα.
Από τις 15 έως τις 22 Οκτωβρίου, «VERIA THESS PUPPET FESTIVAL 2018», στο Χώρο Τεχνών και στις πλατείες και δρόμους της Βέροιας.