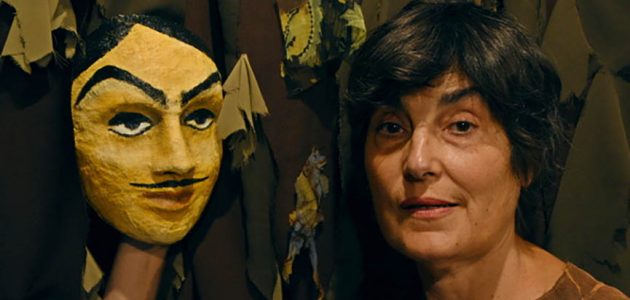 ΜΑΜΑΚΟΥΚΑ
Forest stories
Puppet theatre with live music for very young
09:30 & 11:30 Στην αίθουσα πολλαπλών χρήσεων του Δημαρχιακού μεγάρου «Μ. Αναγνωστάκης»
masks, puppet and object manipulation, live music

60'

3-6

Greek
Τhree different stories that take place in the woods. At the first one, we meet a little Badger who gets lost in the woods, has many adventures and in the end he manages to conquer his fears.
The second story is about a dog from the times where he was still a wild animal of the woods. He searches for a strong and supporting friend. After meeting lots of animals he meets a human and then he chooses to go live with his as a loyal companion.
In the third story, three old wizards and a young apprentice magician meet in the forest in the annual magic competition. Who is going to win?
The forest sounds are played live by various musical instruments and many original songs are also played by Lisa Mamakouka and her quitar.
Interpretation : Ioanna Mamakouka
Music, sounds and songs: Lisa Mamakouka
Masks-scenery :Martha Foka
Bios
Ioanna Mamakouka has had her theatrical studies in Paris (UNIVERSITE PARIS III, CONSERVATOIRE D'ART DRAMATIQUE DE PARIS), has participated in various seminars for phusical theatre, masks, clown, puppet theatre and musical theatre etc.
She has instructed theatrical workshops for children and adults both in France and Greece. (Municipality of Paris, Moraiti school, Institute for theatrical studies of the Aristotle University, Music Studies Department of the University of Makedonia).
Under the direction of Damianos Konstantinidis she has presented many plays for children and her performances have been presented in schools, theatrical halls and in numerous festivals in Greece and abroad.
Lisa Mamakouka studied classical guitar and sol fez, byzantine music and traditional percussive instruments. She also took singing lessons. She founded and co-directed the Music Group of the Department of the School of French of Aristotle unicersity where she holds a position as an Assistant Professor.
She has had theatrical classes with Tina Stefanopoulou and Damianos Konstantinidis.She has also taken part at Improvisation performances with the Nemesis group.
Since 2011 she has been accompanying I. Mamakouka in her performances, with singing and percussive instruments.
Images & Videos
Event Hours
(2)
Monday Nov. 6

09:30 am – 10:30 am

The play: Forest stories

Monday Nov. 6

11:30 am – 12:30 pm

The play: Forest stories
VERIA THESS PUPPET FESTIVAL 2018
«VERIA THESS PUPPET FESTIVAL 2018», το Διεθνές Φεστιβάλ Κουκλοθέατρου και Παντομίμας της Βέροιας. Στο Χώρο Τεχνών και στις πλατείες και δρόμους της Βέροιας.
8 μέρες συνεχόμενης θεατρικής γιορτής για όλες τις ηλικίες!
26 παραστάσεις από 12 βραβευμένους θιάσους, που προέρχονται από 6 διαφορετικές χώρες.
Παραστάσεις, πρωινές για μαθητές δημοτικών σχολείων και γυμνασίων και για όλη την οικογένεια στο απογευματινό πρόγραμμα.
Θεατρικά έργα στα ελληνικά και χωρίς λόγια και με πολύ μουσική, κίνηση και φυσικά με εμψύχωση κουκλών και αντικειμένων ώστε να ερμηνεύσουν ιστορίες από διαφορετικούς πολιτισμούς και παραδόσεις.
Με παράλληλες εκπαιδευτικές προτάσεις, όπως 2 σεμινάρια ενηλίκων για την ανακάλυψη του θεατρικού κόσμου των αντικειμένων, 12 θέατρο-παιδαγωγικά εργαστήρια για παιδιά, και 2 εκθέσεις για το κουκλοθέατρο και το θεέατρο σκιών στην ιστορία της ανθρωπότητας & στην Ελλάδα.
Από τις 15 έως τις 22 Οκτωβρίου, «VERIA THESS PUPPET FESTIVAL 2018», στο Χώρο Τεχνών και στις πλατείες και δρόμους της Βέροιας.