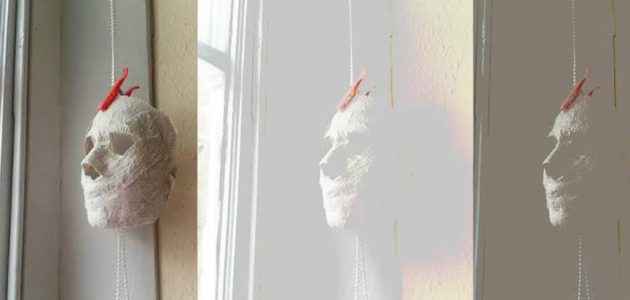 ΧΡΥΣΑΝΘΗ ΔΑΦΟΠΟΥΛΟΥ & ΝΙΚΟΛΕΤΤΑ ΒΕΡΥΚΙΟΥ
Workshop Details
Festival of Puppetry & Mime 2017
Partners: Chryssanthi Dafopoulou
Clinical Hypnotherapist & Nikoletta Verykiou, Actress/Educator
12 September 2017
Final draft
Mask making for the Soul
A two-day intensive creative workshop of artistic empowerment, through hypnotherapy, mask making and physical theatre
Workshop Description
The acting & hypnotherapy workshop, Mask-making for the soul is a collaboration of the Clinical Hypnotherapy & NLP Centre based in Thessaloniki, Greece and Eidekanou Theatre based in Nicosia, Cyprus. During this intensive workshop the mask is used as a therapeutic tool, one which boosts creativity and unveils all creative potential in order to encourage the artistic originality and confidence of the participants. Moreover it boosts authenticity as the taught technique allows every participant to draw inspiration from his own database. Artists will find this technique extremely helpful.
This workshop is suitable for people who work in educational settings, actors, puppeteers, students of drama schools, writers, theatrologists and creative people who want to explore fast track the potential of this particular technique for the benefit of their personal and professional development. Through this workshop we become creative adults who evoke and maintain our artistic expression in order to maximize performance in our specific area of interest, in front of the audience or stage. Phobias, fears, creative blockages, stage fright, generally affect our overall attitude and performance. Through this intensive workshop we understand why we act as we do and we learn how to change this repetitive pattern for good. These changes transform us from the core and boost our creative expression on a personal and professional level.
This workshop combines a series of therapeutic techniques on a deep relaxation level such as (gentle hypnotherapy), construction of a 3D mask and taking moulds from our faces. It also entails group exercises and games based on acting principles (voice, energy balance, availability and communication). All these techniques are combined to allow connectivity with our creative inner child that wants to find the missing pieces of the passage from childhood to adulthood and communicate this knowledge to the adult self. This is the secret of success that can aid the expression of the participants.
A few words for the organizers of the Mask making for the soul workshop
Clinical Hypnotherapy & NLP Centre
The Clinical Hypnotherapy & NLP Centre's main target is the education, prevention and therapy of a variety of physical and psychological conditions. Hypnotherapy & NLP are useful tools that one can use to train the mind against all aggressive thinking and harmful actions against the self and bring positive changes in everyday life in minimum 6 sessions. The board consists of 2 certified Clinical Hypnotherapists from the Surrey Institute of Clinical Hypnotherapy of London (SICH),National Council of Hypnotherapy (NCH) and General Hypnotherapy Register (GHR).
Apart from its clinical role, creative hypnotherapy is used in a smoother way to tackle issues such as: creativity blockages, phobias, panic attacks, depression, lack of confidence, lack of healthy boundaries, weak memory and learning ability, where the mask as a psychosomatic therapeutic tool plays an important role. Through creative hypnotherapy and mask making for the soul, we understand how self love takes off the masks that we fear we cannot live without and know we cannot live within. Most of the work is done by establishing the mask as a creative tool for establishing healthy boundaries and approaching the inner child.
Eidekanou Theatre
Eidekanou Theatre is a team of professional artists, who draws its basic principles from the creative play and physicality. Its theatrical inspiration comes from the present actions (here and now), and from a range of physical experiences between random and wrong. The team uses elements connected with the physicality of the childhood and aims to maintain those through taught consciousness and constant practice. The aim of this two-day workshop is to re-learn the participants to talk, walk, and interact with the same easiness and physicality of the child through the conscious eyes of the adult. Eidekanou Theatre recognises and treats the human body as the most perfect music instrument and tries to tune it in a unique personal way, depending on the personality and shape of every individual. There is relaxation capacity and availability for expansion in every body as soon as we return to childhood where there is no tension. The creative tools that are used are breathing exercises, voice improvisation, physical tuning of the body, walking with a target, visual concentration and body availability. If we add the mask to these elements we can remind our body, qualities that we had from our childhood.
The technique Mask making for the Soul
The abovetechnique consists of a) the 3D mask as a tool for approaching the self, b) hypnotherapy for relaxation and creative encouragement and the basic principles of acting and physical theatre. The artist does not hide himself behind the mask or the role, but on the contrary reveals himself/herself on stage or audience. The stage is not a hiding place but a visual enlargement compass for him. Every personal or technical difficulty is enlarged as well as every positive attitude or intervention. The aim of this combined technique is to offer the tools to the participants to manage their own creativity without any internal or external tensions and to be able to free all their creativity in front of the audience.
Initially we work in pairs making each other's mask. We then become the other person who all that time had been watching us. We use simple materials for the mask and we add them in layers. While doing so we discover layers of our substance, such as our mental, heart and energetic 'bodies'. We use the known and unknown, expression techniques; role-play, dialogue and hypnotherapy, together with a good sense of humor and of course the idea of the mask. We become mask makers and mask givers. We see ourselves objectively without being judgmental. Through the dynamics of the team, we can see through someone else's eyes, how we move and interact in space. We pretend we are someone else carrying the idea of the mask and vice versa. In other words the mask changes owner but not personality.
Through role-play, we exchange vital information and we correct our unhealthy beliefs, our prohibitions, the way we carry ourselves, and often the wrong impression we have about ourselves. We develop a dialogue with our inner self-mirroring the behaviour of others. Through guided training, internal and external observation we approach a better version of our self. We remember previous observations and comments from others to us, that we could not maybe apply to ourselves back then, but now it all makes sense because there is clarity of heart and mind.
This workshop is designed to have a dynamic impact on a personal level but also on group level as well. It takes us through a creative but deeply personal journey that brings an important change in the mentality of every artist or creative person. This combined technique works on a deep personal level after a field of safety and trust has been established in the team. In this level of heightened creative frequency and encouragement all the fears, blockage and prohibitions, even procrastination can be realised and overcome.
Workshop program
Day 1
15:30 Getting to know the team, materials and space
16:00 Team strengthening and interaction through theatre games
17:00 Creating a ritual- Concentration exercises and preparation for the creative journey
18:00 Introduction to the most important voice-coachers-Introduction to physical breathing and anatomy posture.
19:00 Break
19:30 Mask making-taking moulds from each other's face with plaster bands working in pairs.
20:30 Seated on a circle we observe the masks placed ahead of us. We then ask questions
21:30-22:30 Awakening the creative child. Group hypnotherapy and relaxation for creativity. Retrieving the frozen parts of ourselves through self-love, recall exercises.
Day 2
10:00 Group discussion on the experience of the previous day. Repeating the ritual
10:30 Physical warm up, breathing exercises and voice improvisation.
12:00 Construction of 3D mask-continuation from the previous day. We add the external layers on the face as well as add layers of paper and glue. We decide on the emotion that the mask will wear. We do not wear the mask. They are used as contemplation masks. They are parts of ourselves  positioned in space constantly watching us, from a different angle.
13:00 Break
14:00 Continuation of mask making
16:00 The body in space. Neutral walking, correction of posture (orthosomy).Communication exercises in pairs and as a group.
18:00-19:30 Group hypnotherapy for relaxation. Changing position with the symptom exercise. Connecting the body and the symptom through creative play and inner dialogue.
19:30-20:00 Relaxation group exercises, returning smoothly to reality. End of workshop and short discussion with participants.
Number of participants up to 14
This workshop is suitable for actors, puppeteers, students of drama schools, teachers, writers, theatrologists and creative people who want to explore fast track the potential of this particular technique for the benefit of their personal and professional development.
The workshop is likely to be in Greek and English language depending on the needs of the team.
The participants should wear comfortable clothes and shoes in order to be able to move freely in space. If you have yoga mats, please bring them with you.
We will keep records of the visual material during the 2 days of the workshop, subject to the mutual agreement of the participants.
Images & Videos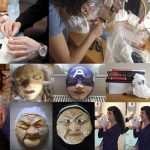 Event Hours
(2)
Friday Nov. 3

03:00 pm – 09:00 pm

A two-day intensive creative workshop of artistic empowerment, through hypnotherapy, mask making and physical theatre

Saturday Nov. 4

10:00 am – 07:00 pm

A two-day intensive creative workshop of artistic empowerment, through hypnotherapy, mask making and physical theatre
VERIA THESS PUPPET FESTIVAL 2018
«VERIA THESS PUPPET FESTIVAL 2018», το Διεθνές Φεστιβάλ Κουκλοθέατρου και Παντομίμας της Βέροιας. Στο Χώρο Τεχνών και στις πλατείες και δρόμους της Βέροιας.
8 μέρες συνεχόμενης θεατρικής γιορτής για όλες τις ηλικίες!
26 παραστάσεις από 12 βραβευμένους θιάσους, που προέρχονται από 6 διαφορετικές χώρες.
Παραστάσεις, πρωινές για μαθητές δημοτικών σχολείων και γυμνασίων και για όλη την οικογένεια στο απογευματινό πρόγραμμα.
Θεατρικά έργα στα ελληνικά και χωρίς λόγια και με πολύ μουσική, κίνηση και φυσικά με εμψύχωση κουκλών και αντικειμένων ώστε να ερμηνεύσουν ιστορίες από διαφορετικούς πολιτισμούς και παραδόσεις.
Με παράλληλες εκπαιδευτικές προτάσεις, όπως 2 σεμινάρια ενηλίκων για την ανακάλυψη του θεατρικού κόσμου των αντικειμένων, 12 θέατρο-παιδαγωγικά εργαστήρια για παιδιά, και 2 εκθέσεις για το κουκλοθέατρο και το θεέατρο σκιών στην ιστορία της ανθρωπότητας & στην Ελλάδα.
Από τις 15 έως τις 22 Οκτωβρίου, «VERIA THESS PUPPET FESTIVAL 2018», στο Χώρο Τεχνών και στις πλατείες και δρόμους της Βέροιας.